Trailer brakes are required on all wheels of a trailer if the trailer has a Gross Vehicle Weight Rating (GVWR) of more than 2990lbs (1400KG). In some cases, trailers with a GVWR as low as 1,000 lbs. may be required to have brakes if the trailer weight exceeds 50% of the tow vehicles weight. Brakes are required on ALL ends of each axle.
There are two main types of trailer brakes: electric and hydraulic. 
Brakes should be adjusted (1) after the first 320 km of operation, when the brake shoes and drums have "seated," (2) at 4800 km intervals, (3) or as use and performance require.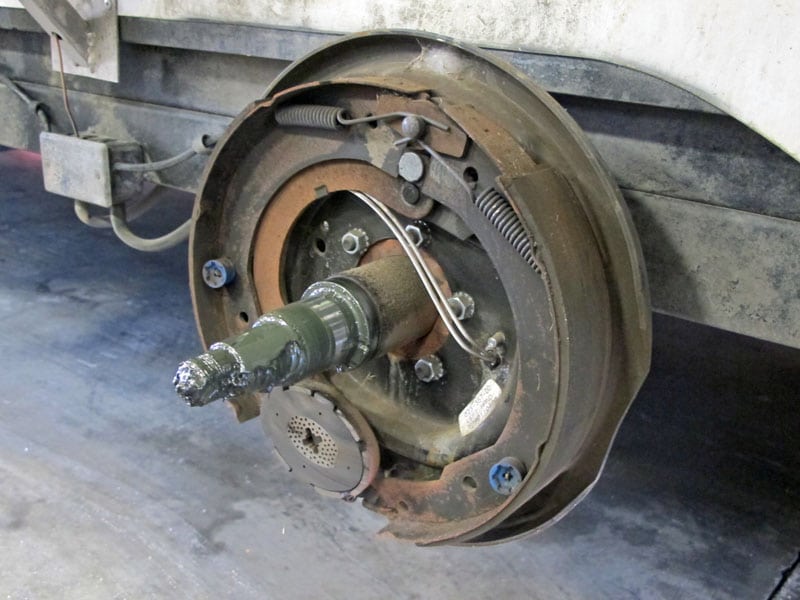 With normal use, servicing at one-year intervals is usually adequate. With increased weight load and usage, this work should be done more frequently as required. Magnets and shoes must be changed when they become excessively worn or scored, a condition that can reduce vehicle braking. Cleaning the backing plate, magnet arm, magnet, and brake shoes and checking for loose or worn parts, stretched or deformed return springs and replacing as necessary ensures the proper function of your brakes moving forward.
A simple visual inspection of your brake linings will tell if they are usable. Replacement is necessary if the lining is worn to 2mm (5/64) or less. Shoes contaminated with grease or oil, or abnormally scored or gouged should also be replaced. Hairline heat cracks are normal in bonded linings and should not be cause for concern. When replacement is necessary, it is important to replace both shoes on each brake and both brakes of the same axle. This will help retain the "balance" of your brakes.